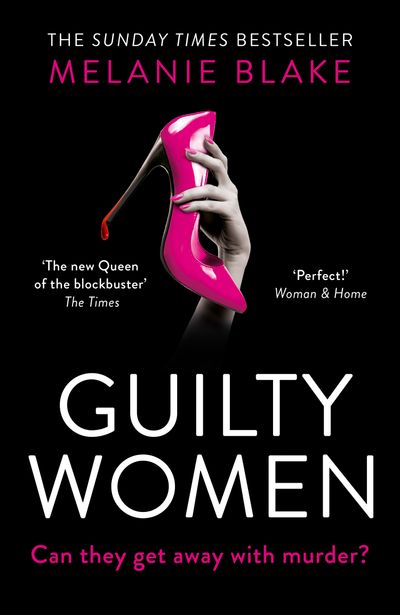 Guilty Women
By Melanie Blake
THE SUNDAY TIMES TOP TEN BESTSELLER
'If you only read one book this year, Guilty Women won't disappoint. It will leave you breathless' The Express
'Guilty Women's stamped it's razor sharp, blood-stained stiletto heel firmly in the lead to be 2022's book of the year' The Daily Mirror
Can they get away with murder?
On a beautiful island off the English coast, four TV actresses gather.
Their fifth member is missing – and only they know why she was killed.
As the secret between them threatens to come out, tensions on set run high.
The women are determined that the show must go on – no matter what it costs.
But one of them is on the edge of telling the truth – and no show in the world could survive this scandal…
All of the women have something to hide – but the question is, are they all guilty?
The cast of RUTHLESS WOMEN is back – but this time they're in trouble…
PRAISE FOR GUILTY WOMEN:
"You'll laugh, cry, be shocked and left wanting more… Guilty Women is an unmissable read. Pure escapism. 5 stars!"
Ok! Magazine
"Revenge, murder, sex and greed… Guilty Women has it all. Blake's latest novel proves she's here to stay as the new queen of the blockbuster novel. Jackie Collins would have loved it"
Bella Magazine
"Not for the faint hearted! An unputdownable, revenge and lust filled romp of a read that you won't want to end!"
Heat Magazine
"The perfect killer thriller with sexy scenes that'll keep you reading late into the night"
Notebook Magazine
"If you only read one book this year, then Guilty Women won't disappoint. It will leave you breathless"
The Express
"'Guilty Women is stuffed with revenge, with sex, with all manner of back stabbing shenanigans - and I loved loved loved it." - Sixtyplusurfers
"'It might only be Spring, but Blake's 'Guilty Women's already stamped it's razor sharp, blood stained stiletto heel firmly in the lead to be 2022's 'book of the year." - Pure escapist indulgence, which is just what we need right now' The Daily Mirror
"'You'll laugh, cry, be shocked and left wanting more… Guilty Women is an unmissable read. Pure escapism. 5 stars!" - Ok! Magazine
"'Revenge, murder, sex and greed… Guilty Women has it all. Blake's latest novel proves she's here to stay as the new queen of the blockbuster novel. Jackie Collins would have loved it" - Bella Magazine
"'Not for the faint hearted! An unputdownable, revenge and lust filled romp of a read that you won't want to end!" - Heat Magazine
"'The perfect killer thriller with sexy scenes that'll keep you reading late into the night." - Notebook Magazine
"'A sexy, sassy, super addictive read! Hold on tight, each page will have you gasping in horror at the 'fictitious" - diva like behaviour that Blake is only too well qualified to write about! Guilty Women is a white knuckle ride of a read!' The Sunday Mirror
"'Glamour, intrigue, mystery and murder, Guilty Women has it all. Sizzlingly unputdownable. Our readers loved it" - New Magazine
"'If you only read one book this year, then Guilty Women won't disappoint. It will leave you breathless" - The Express
'The new Queen of the blockbuster' The Times -
'Glitz, glamour and ambition…perfect' Woman & Home -
'It's the sauciest, most riveting read of the year - a bonkbuster so gloriously sexy, funny and page turning, we devoured it in just two days' Daily Record -